Dux Shell for Surface
the smarter case
Best-in-Class Protection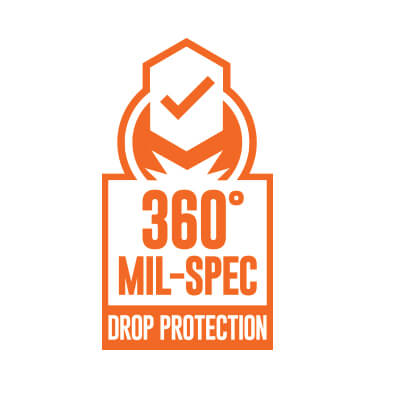 we believe
good enough
isn't good enough
So, we make it a point to go above and beyond—even in the way we test our products. Military standards for drop testing require that a product like Dux be able to maintain all operating functions after plummeting 26 times for a height of 4 feet. We subjected Dux to our own extreme testing at 6.6 feet. It passed. And that calls for the best drop of all … a mic drop.
our commitment
to your comfort
knows no limits
Everyone has their own particular preference for what constitutes the ideal viewing incline when using their Surface. So, we went beyond the typical choice or two to give you the opportunity to find your perfect positioning. Our Infinity Stand is designed to accommodate nearly unlimited viewing angles in all modes (laptop, studio, and tablet). So, you can be a digital Goldilocks and choose the perspective that's "just right" for you.
If You're Looking
to Make a Case

All Your Own

,

the Choice Is Clear

We use completely transparent materials for our back panel that allow you to customize your device with personal images, scan a tagging barcode, or simply let the beauty of your device shine through. But there's one more thing we want to make perfectly clear: this stylish case still provides the maximum level of protection for your digital gear.
Designed For Surface
STM Goods is an official Microsoft partner, working together to bring you high performing Microsoft Surface accessories manufactured to the precise requirements of Microsoft Surface products. During development, our products are run through a rigorous testing process to ensure the exactness and reliability Microsoft Surface customers expect and demand from their technology accessories.
Additional Features
Tested to meet or exceed U.S. Dept. of Defense Standard 810H protocols (26 drops from 4 feet)
Infinity Hinge accommodates a full 180-degree range of angles for typing, drawing, and viewing
Portrait/horizontal viewing option with maximum stability
Transparent case provides the ability to customise with photos or ID tag, or simply let your device shine through
Unobstructed access to all ports and buttons
Seamless Type Cover compatibility
Strong and flexible bumper makes device installation/removal easy with no tools
Product Specifications
Surface Pro X (2019/2020/2021)
main material(s):

TPU & Polycarbonate

outer dimensions:

11.81 x 8.46 x 0.75 in / 30 x 21.5 x 1.9 cm

weight:

0.55 lbs / 0.248 kg