Atlas for iPad
the smarter case
Wrap Yourself in
a World of Texture
To Achieve Variable Viewing,
Our Heads Told Us
to Use Our Feet
Some feel the ideal viewing position for their iPad is a 45-degree angle. Others prefer something more upright. We're not going to take sides in something so particular and personal. We'd rather make everyone happy. And thanks to our textured Friction Feet, it's possible to do just that. Choose from a wide array of different viewing possibilities and pick the one that's perfect for you.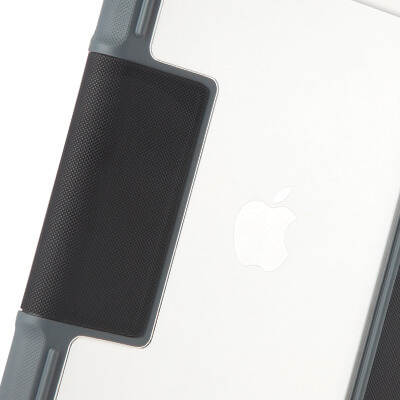 We Believe a Battery Should Only Be Running
When a Device
Is in Use
Chances are, you probably feel like you're charging and recharging your digital devices more often than you'd like. It's just the nature of the beast. So, we just thought we'd do our part in helping you maximize the time between juicing up. Our instant on/off cover wakes up your tablet when it's open and puts it to sleep when it's closed. It's a real (battery) lifesaver.
You'll Get a Charge Out of
What We've Done
with Pencil Charging
Enables your writing tool to come in direct contact with the iPad Pro for efficient power refreshing.
Additional Features
Lightweight and slim design protects from bumps and scratches without bulk
Variable viewing – textured Friction Feet allow you to find the perfect viewing angle
Instant on/off cover – magnetic closure activates sleep and wake functionality to save energy
Apple Pencil storage and protection in a fitted channel
Textured fabric cover elegantly wraps around the case and folds for both typing and viewing orientations
Product Specifications
iPad Pro 12.9" (3rd generation)
main material(s):

100% Poly Bracket | Polyester Cover

outer dimensions:

11.5 x 9.57 x 0.55 in / 29.2 x 24.3 x 1.4 cm

weight:

1.37 lbs / .62 kg

compatible with:

iPad Pro 12.9" (3rd Generation)

model number(s):

A1876, A1895, A2014, A1983